Buyer's Guide to Property in Nice
We have lived in London for more than 20 years working for the BBC and other television production companies. We love London and have an apartment in a great area, Belsize Park, with heaps of facilities on our door step. We can walk into the West End through Regents Park. We are close to Hampstead Heath, Primrose Hill and Camden market. (If you want to rent an apartment in London, click here.)
But in our travels all over the world we searched for somewhere to live and work that offered the benefits of city life without its disadvantages. Somewhere we could enjoy a quality lifestyle without having to work long hours to support it. Then we discovered and fell in love with Nice. We realised that Nice met all our criteria. So we mustered our resources and decided to borrow money to buy property that would be paid off by the time we were 60.
Our strategy has evolved from our first tentative investigations of the property market to a commitment to actually buying here - about a decade ahead of our original plan! If like us you are in your 40s or 50s and want to invest in something real that you, your friends and family can enjoy, then Nice is an unbeatable choice. It offers a unique combination of city life, good food, sun, sea, and natural beauty.
Why Nice?
Nice is a gorgeous city, with artists' studios and the sparkling Mediterranean visible at every turn. It's lively all year round, offering almost continual sunshine, spectacular scenery, an international airport, a renowned theatre, opera and numerous music and arts festivals. You are just a few hours from the clear mountain air and the ski slopes of Provence. Nice has been called "Paris by the sea", with the warmth and spontaneity of Italy, less than half an hour away. It's a very international city with a fabulous, healthy cuisine and standard of living which knocks the spots of most cities anywhere in the world. Everything is excellent value, English is widely spoken. In our years of visiting here we have seen many apartments and met lots of potential vendors. Not one of them was leaving Nice. They were all moving within Nice! We think that says a lot about the place.
Buying Property in Nice
We were surprised when we started looking how much we could get for our money and we still think Nice beats Sydney or London (the other markets we know well) as a place to invest. We were so thrilled with our first property we bought another one as a rental investment, put it up on our web site and have been pleased by the number of people who want to rent it.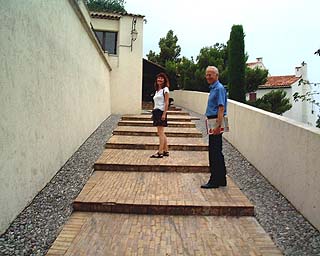 Jenny inspecting property
Property on the French Riviera
Nice is beautiful, the Riviera is a prime location and values continue to rise each year. But once you have signed the initial sales reservation contract you are lucky if you see the same person next time. It really helps to work with someone you trust so you can sort out any issues that arise before you sign the final contract.